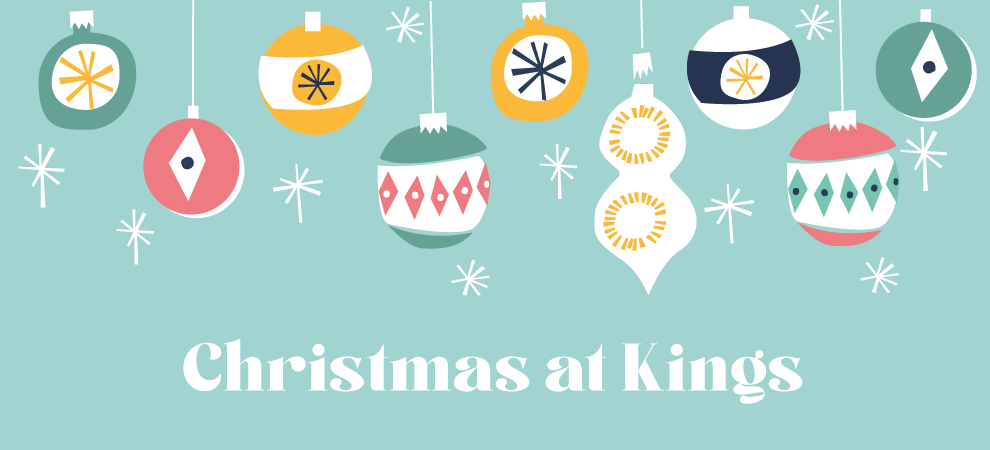 Sun 28th Nov 10.30am
All-age Advent Service
We begin our Advent season with an all-age service, including Christingles, our first reading from the Christmas story and a baby dedication.
Click here for more info and to book.
Mon 6th Dec 7.30pm 
Gather Christmas Workshop
This will be a lovely, festive evening with Christmas treats and non-alcoholic mulled punch.
Feel free to bring friends along!
For more info and to book a space, click here.
Sat 11th Dec 4-6pm
The Big Sparkly Christmas Treasure Hunt
A wintry walk around the neighbourhood picking up clues with refreshments at Kings to end.
Click here for more info.
Sun 19th Dec 10.30am
All-age Christmas Worship and Celebration
A fun festive service for all-ages including Christmas songs, children's nativity and activities.
Book online here from Monday 6th December.
Sun 19th Dec 7.00pm
Carols by Candlelight
Traditional and modern carols with readings from the Christmas story.
Click here for more info and to book.
Sat 25th Dec 10.30am
Christmas Day Service
A short, fun start to the Big Day!
Click here to book.